The article I read right after I had Omicron could not have resonated with me more. When you are a mom or solo caregiver, you are "supposed" to know all the answers, but no one teaches or prepares you to suddenly not require sleep, feel anxiety about keeping a human alive, and still somehow carry along with all of the same responsibilities as before. It's a lot. It gets so much easier in some ways and so much harder in others.
The COVID 19 pandemic has magnified this sense of responsibility in all primary caregivers and has us feeling like we are drowning and barely afloat. Let's face it, working moms and single parents were already overtaxed before the pandemic – just like nurses, teachers, first responders, doctors, mental health providers, and anyone else serving on the front lines. The exhausted state of primary caregivers appears to follow many of the same trends as we're seeing with frontline workers' fatigue. These jobs all require a person to be available twenty-four seven, seven days a week. This comes with layers and layers of emotions and responsibilities. It's a trifecta of exhaustion rooted in:
Global fatigue about the pandemic and state of the world that hits each of us at a different time and intensity
Actual COVID fatigue and brain fog from the virus
Compassion fatigue, or burnout from taking care of others at the expense of yourself.
Many parents are trying to hold onto the pre-pandemic Pinterest standards while also trying to "make up" for the disappointing cancellations of children's activities and continuing their own work or volunteer efforts. Just like many high school teens who think they have to do it all to have any chance at success, primary caregivers embrace and attempt to live this motto too. When we keep pushing to reach the idealistic version of happiness and trying to do it all, it's easy to get lost on the way. Even I got lost, despite the fact that I work with my clients to embrace finding balance. The forced break of the quarantine helped me pause and realize that doing everything and trying to make it all work is just too much to hold. It is NOT worth missing bedtime to snuggle and take in the warmth and smell of your child's hair. Everything has a cost.
It's impossible to be fully present when you get home if you are pushing yourself past your max. For example, I would come home too exhausted to play with my kids or make a healthy meal. It didn't even sink in when my own parents would say, "Put the phone down and be present." I felt like I had a time-sensitive mission to accomplish that temporarily left my family without me and all that I was fighting for. Then one day it clicks, and you decide that's enough. You find your balance again, with your parents, your kids, your spouse, and your friendships. Connection is EVERYTHING. You are forever different but are also who you have always been meant to be. We can all recalibrate our goals and values with each season and each challenge. Having COVID reminded me that I had forgotten how to do this, with myself and my own family.
Suddenly, I allowed myself permission to give up trying to be superhuman. I deserve the same balance I try to teach my clients they deserve and work toward achieving. I can also put healthy boundaries around work and availability and still remain beyond devoted and fulfilled by my career. I had no idea how much I was missing. Family game nights create opportunities for organic connection and fun. The lessons taught during these times are invaluable and where generational wisdom is passed on. True connection is required for these timeless moments. I had to be honest with myself. I had gotten just as swept up in an unrealistic ideal as the rest of the world.
Identifying what's important, setting boundaries, and letting go of expectations are not easy tasks, but they have ultimately brought me back home and helped me identify and prioritize what truly fills me up instead of what was "supposed" to.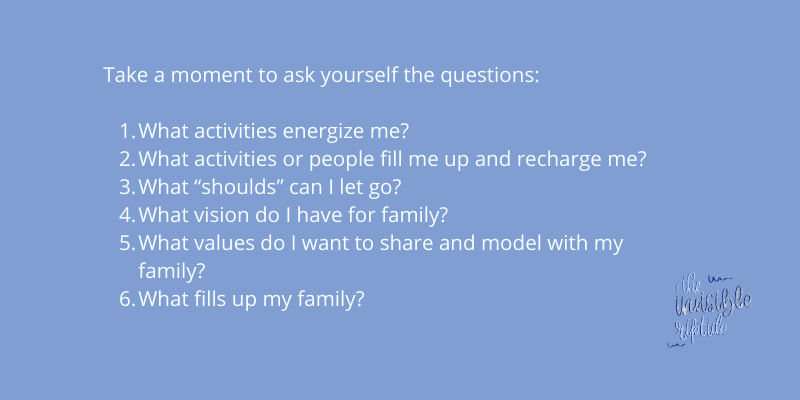 Life is all about trial and error. We don't know what we don't know until we discover it. Sometimes we don't even know that we need to discover it. So be patient with yourself, and when you realize that change is necessary, give yourself grace and embrace it.